We are delighted to announce the 5th European Meeting on Animal Chlamydiosis (EMAC-5), which will be held in Odesa,
Ukraine on October 3-5, 2018.
INVITATION
On behalf of the Scientific Committee, we invite you to participate in the EMAC-5, which will be held in the Atlantic Garden Resort Hotel, Odesa, Ukraine from October 3 to 5, 2018.
The meeting aims to serve as the international forum for researchers, experts, veterinarians, medical doctors, and public health professionals interested in all aspects of animal chlamydiosis. There will be scientific presentations and discussions in a friendly atmosphere to exchange ideas and explore collaborations in the field of animal chlamydiosis.
Odesa is the biggest city of Ukraine that is situated on the Black See coast with a population of approximately 1 million inhabitants. Odesa is a nice historical place with many beautiful sites and attractions.
For additional information please
contact: vbolotin@hotmail.de (Vitaliy Bolotin)
ORGANIZING COMMITTEE
Prof. Borys Stegniy
Prof. Anton Gerilovych
Dr. Vitaliy Bolotin
Dr. Oleksii Solodiankin
Dr. Maryna Stegniy
Oleksandr Biloivan
Oksana Zlenko
Ganna Oriekhova
Anastasia Mykhailenko
Iulia Krivoshei
SCIENTIFIC COMMITTEE
Prof. Nicole Borel
Prof. Maria Rosa Caro
Prof. Danijela Horvatek Tomic
Prof. Karine Laroucau
Prof. David Longbottom
Prof. Bryan Markey
Prof. Andreas Pospischil
Prof. Konrad Sachse
Prof. Daisy Vanrompay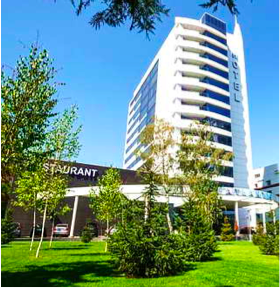 Conference venue:
Atlantic Garden Resort Hotel,
24a Genuezskaya street,
Odessa 65009 Ukraine
Phone : +38- 048-774-44-44
Fax: +38-048-774-44-45
http://atlantic-hotel.com.ua/en/
Accommodation:
Atlantic Garden Resort Hotel http://atlantic-hotel.com.ua/en/prices/
(Room prizes starting at 50 Euro)
Hotel Arcadia (2 minutes to the EMAC place) http://hotel-arkadia.com/
(Room prizes starting at 15 Euro)

The Organizing Committee looks forward to warmly welcome you to Odesa.